The population of England and Wales has continued to age, with Census 2021 results confirming there are more people than ever before in older age groups. Over 11 million people – 18.6% of the total population – were aged 65 years or older, compared with 16.4% at the time of the previous census in 2011. This included over half a million (527,900) people who were at least 90 years of age.
The average (median) age in England and Wales rose from 39 years in 2011 to 40 years in 2021, reflecting the changing age structure of the population.
This article goes beyond the numbers to provide expert views on issues related to ageing and explain why census data are particularly useful. What do we know about the lives of older people and the challenges they face? How do the data help to plan for an older population? And, what do older people themselves think about ageing and how we could all age better?
Why are data about ageing important?
Angele Storey is head of the Office for National Statistics (ONS) Ageing Analysis team.
She said: "While living longer is something to be celebrated and our ageing population presents opportunities, it also has implications for the economy, services and society. Knowing the size and structure of the population is fundamental for decision makers and policy makers in the UK. The 2021 Census results will give further insight into the implications of an ageing population and the lives of older people when the more detailed multivariate data are published in 2023."
The ONS works in partnership with organisations such as the Centre for Ageing Better, Age UK and the International Longevity Centre to ensure that evidence on the UK's ageing population is relevant and helpful.
David Sinclair, chief executive of the International Longevity Centre UK, said: "For all of the big challenges which come with an ageing population, we are reliant on data to help us to tell the story. The census data give consistency, within reason, over 200 years and also allow us to look to the long term. The census gives really detailed local data, which is extraordinarily important. One of the other advantages for us, is that it is accessible and free.
"Good quality data presented in really clever ways can identify and target interventions better, that can help address inequalities.
"We have done some work that shows if you keep people healthier for longer, they work more, they volunteer more, they care more and they spend more money. You can use data to present solutions."
Andrew Eastell from Bradford describes himself as "a young old man". Now aged 65 years, he used to run a property renting business, which has been taken over by one of his five children.
He said: "I play walking football on an Age UK team three times a week. I've taken a first aid and coaching course so I can also coach the team. Most of the players are aged over 60 and we have a good laugh and get on really well. I am chairman of an amateur football club and a member of a retro scooter club too.
"I absolutely love getting older. I have so much freedom and time. I'm very fortunate to be as fit as a fiddle and have a good lifestyle. I stopped smoking about five years ago and it was the best thing I ever did. The only thing I miss is playing proper 11-aside football. I played veterans football up to the age of 60. I know more younger people than older people because of my involvement with football."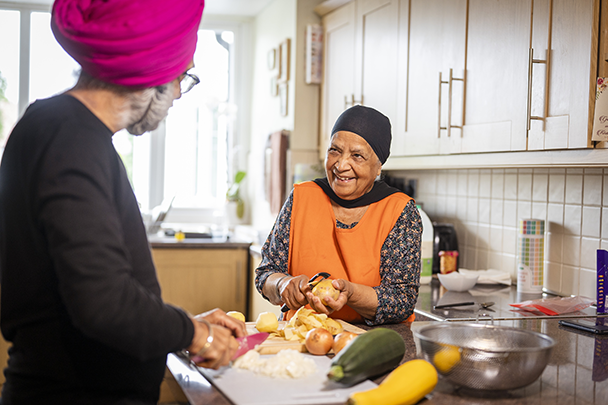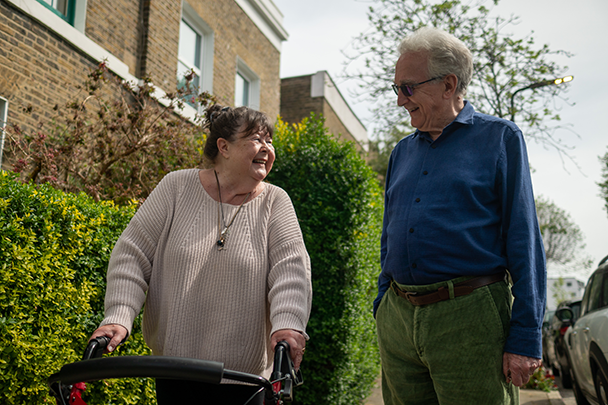 How diverse are older people?
Older people are as diverse as the rest of the population, and it is important not to assume everyone has the same issues and needs simply because of their age.
That is the view of Dr Elizabeth Webb, head of research at Age UK, which provides national and local support and advice to older people, as well as the friendship helpline service Silver Line.
She said: "Older people don't all fit neatly into convenient boxes and stereotypes. They are enormously varied in terms of their age, health, capabilities, independence, disability, their caring responsibilities, engagement with the labour market, incomes, and the extent to which they're dependent on the state. There are also other diversities like ethnicity, sexual orientation and gender identity. Later life is diverse and complex."
Later ONS analysis of the 2021 Census data will help show this diversity and the degree to which characteristics of older people have changed or stayed the same over the last few decades.
Joan Robertshaw, aged 75 years, lives in Halifax, has a son and volunteers in a drop-in centre for older people.
She said: "I worked until I was 64, then volunteered and did lots of things with my husband, Graham. We had some very good times. He died just before Christmas and my volunteer friends have been like a second family.
"The NHS was wonderful when Graham was ill. I was able to look after him myself which I was pleased about; not everyone can do that. I have a really good network of wonderful friends but feel very strongly that I don't want to depend on others, so I am very self-sufficient. I keep busy and occupied and I am getting on with my life.
"Health-wise, I have the odd ache and pain, but I don't feel old. Inside I am still me. I think a lot of older people worry about what happens if they end up on their own or what if they can't manage on their own or financially manage. I take each day as it comes and if I can make someone laugh or if someone is pleased to see me, that's good enough for me.
"Older people are just people who have lived longer than others. If you are fortunate you will live to be an older person as well. I am thankful for the life that I have had and for my family and friends."
What are the challenges of ageing?
The Centre for Ageing Better was launched in 2015. Dr Aideen Young, Senior Evidence Manager at the Centre, highlights some of the challenges facing older people.
She said: "Older people are a highly diverse group in terms of health and wealth, and within that group there are people very much in need – who are living in poverty, in poor housing and in poor health. Their precarious situation has been exacerbated by the cost of living crisis. They are the people that we really need to pay attention to.
"We have the oldest housing stock in Europe so there are many people living in non-decent and inappropriate homes. These homes are simply not suitable for people who are older or who have disabilities."
Age UK's Dr Webb said: "Our responsibility at Age UK is to be there for the older people who need us. We know there are an awful lot of older people who don't need us. There are plenty of people aged over 65 who are in great health, have excellent incomes and good housing. Everything is working well for them. These people often are our volunteers or donors but at some point, later in their life, they may become our service users."
Analysis of 2021 Census data will give us the most up-to-date, detailed picture of the differing circumstances of older people living in England and Wales.
David Sinclair said that one of the main challenges of an ageing population is how to support people to age well.
He said: "We start ageing in the womb so we need to be looking at the young. We need to be thinking about access to education and learning across the whole life so that we can make sure we are prepared for the 100-year life, even if that doesn't end up being everyone. We also need to change the narrative and debate around supporting people to work longer. We need to address challenges like pensioner poverty, shortages in housing and inequalities in health and life expectancy."
Dr Young echoed this theme. She said: "At the Centre for Ageing Better, we have primarily focused on people in mid-life because by creating change for people in this age group we can enable them to have a good later life when they get there."
Census data provide a snapshot in time of the characteristics of people of all ages. A 1% sample of census records are also linked through the once-per-decade censuses back to 1971 in the ONS Longitudinal Study. These data - together with events data including deaths - allow researchers to examine changes in people's attributes and socio-demographic characteristics as they age.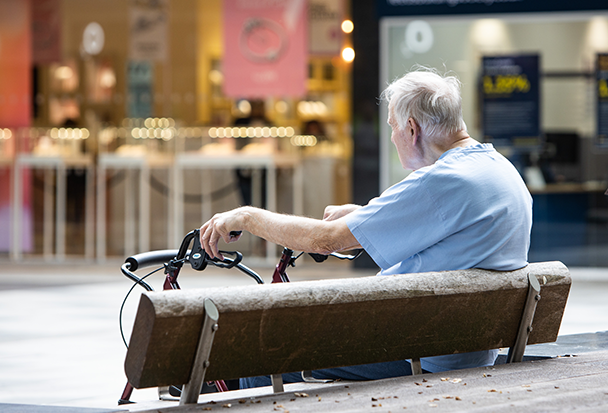 David Sinclair said the UK had been ageing very slowly when compared with places such as South Korea, Hong Kong or Singapore.
He said: "That also means our society has been a bit slower to adapt. We need to use the data we have to plan better for the future."
Dr Webb added: "If we had more accessible public transport and public toilets this wouldn't just be good for older people, it would help people on lower incomes, people with disabilities, and parents and children too. A lot of our interests align."
Angele Storey said a census provides one of the best sources of data for planning:
"It can also be combined with administrative-based data or survey data to build a greater understanding of complex populations and their needs," she added.
Zafar Kayani is 65 years old and lives in Bradford. He has three sons, four grandchildren and works full-time in community engagement for a voluntary group for dads and young children. He is also a yoga teacher.
He said: "When I was younger, I thought 65 was a long way away but now I have reached that milestone, it didn't take that long. Being older does mean you get a lot more respect from other people. It reminds me I am an old man when people call me uncle.
"I am blessed to be able to move about and do the things that I want to do. Other people my age or older may not be as mobile and need to rely on other people. Losing my independence would really bite into me.
"To keep well, it's important to have the opportunity to talk to other people and socialise in groups. Keep your mind and body active. You tend to have more time when you are older and can lose focus, so you need to create things to focus on.
"I started a walking group in my local area about a month ago. After we walk, we have tea and biscuits and talk. The youngest person in the group is 50 and the oldest is 85. They say it has given them a purpose and something to look forward to. They feel part of something. You should celebrate what you have got and enjoy life."
Which areas have the oldest populations?
Census data help the Centre for Ageing Better identify where the most aged and most rapidly ageing communities are in the country.
Across England and Wales, 2021 Census data showed that the local authorities with the highest proportions of older residents in their populations tended to be either or both rural and coastal areas. North Norfolk had the highest, where a third of residents (33.5%) were aged 65 years and over. Rother had the next highest percentage at 32.4% followed by East Lindsey at 30.4%. The three local authorities that have seen the largest increase in the percentage of their population aged 65 and over since 2011 were Richmondshire, Derbyshire Dales and Hambleton.
The local authorities with the lowest proportions of residents aged 65 years and over were the London boroughs of Tower Hamlets (5.6%), Newham (7.2%) and Hackney (7.9%).
Dr Young said: "However, it's not enough just to know where the older people are because of course it also matters whether they are ageing well in those places. We are also looking forward to the coming census data, at both a national and local level, that tells us about other aspects of people's lives, for example, their health and the number living alone. We also look forward to data on the numbers of older people from ethnic minority communities because we know there is enormous inequality in how they experience ageing. We need to know the numbers to be able to know where action is needed; we need the numbers to present to policymakers and that's why the census data is so vital for us."
Lizzie Gent, aged 64 years, lives in Manchester and is a part-time librarian and volunteer. She moved to half-time working in 1997 to look after her partner Marion who had multiple sclerosis. She died around eight years ago.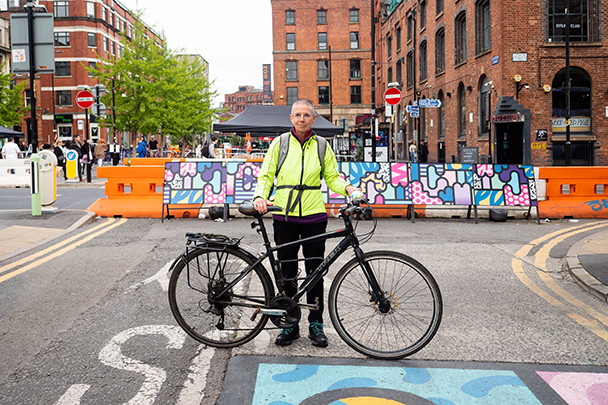 Lizzie said: "Like many people who lose a partner, I had to build another life after she died and become someone different.
"That's when I started volunteering and I also joined a choir. I am now chair of the choir committee. I cycle a lot and do a fitness routine at home some mornings. I hope I am going to carry on cycling into my 90s.
"Most of my friends are my age and are fit and active. I am also surrounded by really positive older women in their 70s. Some live with things like arthritis or other aches and pains. My mum is aged 99 and lives in a care home. I am very aware of other friends who are struggling to pay for their elderly parents' care.
"To keep healthy and live longer I would advise people to keep active, maintain a good group of friends and do an activity that brings you into contact with people like singing or volunteering. Seek out new experiences and learn new skills. Try to enjoy life as much as possible and go out into the countryside.
"People often have an image of older people as an amorphous bunch. It is important to acknowledge that older people have lived fascinating and interesting lives and have individual stories to tell."
Dr Young encouraged people to think about the fact that they are going to get older themselves.
She said: "Ageism is discrimination against your future self and that makes no sense."
Images taken from The Centre for Ageing Better's age-positive image library