13.

Additional information
Cancer Research UK (2012). High risk groups for bowel cancer.
Communities and Local Government (2011). The English Indices of Deprivation 2010.
National Cancer Intelligence Network (2008). Cancer Incidence by Deprivation, England, 1995-2004.
Office for National Statistics (2013). General Lifestyle Survey, 2011.
Office of Population Censuses and Surveys (1994). Registry/ONS Interface Document. National Cancer Registration System, England and Wales. London: OPCS 1994 (subsequently revised).
Parkin DM, Boyd L, and Walker LC (2011). 16. The fraction of cancer attributable to lifestyle and environmental factors in the UK in 2010. Summary and conclusions, British Journal of Cancer 105 (S2), S77-S81.
Parkin DM, Chen VW, Ferlay J, Galceran J, Storm HH and Whelan SL (1994). Comparability and Quality Control in Cancer Registration. IARC Technical Report No. 19. Lyons: International Agency for Research on Cancer.
Parkin DM, Mesher D, and Sasieni P (2011). 13. Cancer attributable to solar (ultraviolet) radiation exposure in the UK in 2010, British Journal of Cancer 105 (S2), S66-S69.
Quinn M, Babb P, Brock A, Kirby L, and Jones J (2001). Cancer trends in England and Wales, 1950–1999. Studies on Medical and Population Subjects No.66, London: The Stationery Office.
Shack L, Jordan C, Thomson C S, Mak V, and Møller H (2008). Variation in incidence of breast, lung and cervical cancer and malignant melanoma of skin by socioeconomic group in England, BMC Cancer, 8, 271.
Back to table of contents
The National Cancer Registry at the Office for National Statistics wishes to acknowledge the work of the regional cancer registries in England which provided the raw data for these analyses. At the time that data on 2011 registrations were being collected, the directors of the registries in England were:
Northern & Yorkshire: Professor J Wilkinson (co-director), Professor B Ferguson (co-director)
Trent: Mr D Meechan
Eastern: Dr J Rashbass
Thames: Dr E Davies
Oxford: Dr M Roche
South West: Dr J Verne
West Midlands: Dr G Lawrence
North West: Dr T Moran
We thank these directors and their staff for all of their hard work.
Figure F: Areas covered by cancer registries, England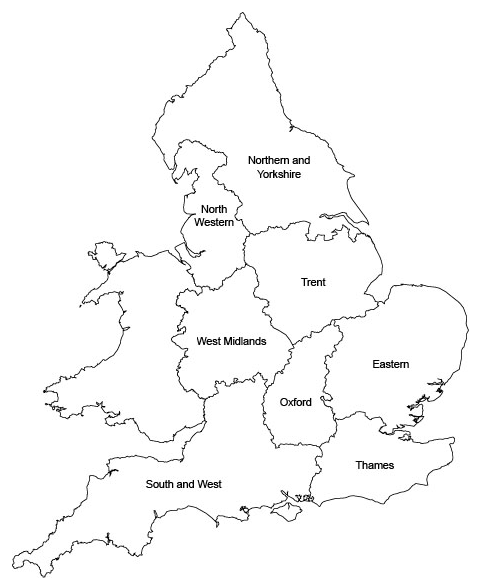 Notes:
Map reproduced by permission of Ordnance Survey on behalf of HMSO. © Crown copyright and database right 2013. All rights reserved. Ordnance Survey Licence number ONS GD272183
On 1 April 2013 the eight English cancer registries transferred into a new organisation, Public Health England (PHE), established to protect and improve the nation's health and wellbeing and to reduce inequalities. PHE will lead on the development of a 21st century health and wellbeing service, supporting local authorities and the NHS to deliver the greatest possible improvements in public health. More information is available on the Public Health England website.
The eight regional cancer registration offices are now in the National Cancer Registration Service within Public Health England. The Director of Disease Registration (which incorporates cancer registration) for Public Health England is:
Dr Jem Rashbass
Unit C – Magog Court
Shelford Bottom
Hinton Way
CAMBRIDGE, CB22 3AD
Tel: +44 (0) 1223 213499
Jem.Rashbass@phe.gov.uk
The contact details for the Welsh, Scottish and Northern Ireland Cancer Registries are as follows:
Wales:

Mrs S Reynolds, General Manager
Welsh Cancer Intelligence and Surveillance Unit
Floor 13, Brunel House
2 Fitzalan Road
CARDIFF, CF24 0HA
Tel: +44 (0) 2920 373500
Shelagh.Reynolds@wales.nhs.uk
Scotland:

Dr D Brewster, Director of Cancer Registration in Scotland
Scottish Cancer Registry
Information Services Division of NHS National Services Scotland (ISD Scotland)
Area 155
Gyle Square
1 South Gyle Crescent
EDINBURGH, EH12 9EB
Tel: +44 (0) 131 275 6092
Nss.isdCancerStats@nhs.net
Northern Ireland:

Dr A Gavin, Director
Northern Ireland Cancer Registry
Queens University of Belfast
School of Medicine, Dentistry & Biomedical Sciences
Mulhouse Building
Grosvenor Road
BELFAST, BT12 6BJ
Tel: +44 (0) 28 9063 2573
nicr@qub.ac.uk
The cancer registries and cancer registration offices are all members of the United Kingdom Association of Cancer Registries (UKACR), renamed the United Kingdom and Ireland Association of Cancer Registries (UKIACR) in June 2013.
Back to table of contents
The age-standardised rates in this release are expressed per 100,000 population and are standardised to the European Standard Population. They are standardised to allow for more robust comparisons between males and females, years and geographical areas.

Cancer incidence rates are based on the latest mid-year population estimates for the reference year at the time of publication. Rates for 2002 to 2011 have been calculated using population estimates revised to take account of the 2011 Census. Rates may therefore differ from those previously published.

Eurostat, the statistical institute of the European Union, has decided to update the European Standard Population which is used in the calculation of age-standardised rates. ONS will publish details of the impact of this change on age-standardised rates, and, following user engagement in summer 2013, the timetable for implementation of the new standard population in relevant publications.

The figures for numbers and rates of 'all cancers' in this release refer to all malignant neoplasms (ICD-10 C00–C97), excluding non-melanoma skin cancer (ICD-10 C44). Non-melanoma skin cancer (nmsc) is very common, but the policies and practices for the recording of nmsc have varied among the cancer registries, and over time. As the available figures are known to be under-estimates and unreliable for comparison purposes, they have been excluded from the figures for 'all cancers'.

In situ means that the cancer is in its earliest stages (not yet spread from the surface layer of cells in an organ or other tissue) and is usually curable. ICD-10 groups in situ neoplasms in D00–D09.

Cancer incidence data from the National Cancer Registry at ONS are used to calculate National Statistics on cancer survival.

The cancer registrations data reported are believed to be essentially complete for the year 2011 (98% at the time of extraction), but it is important to note that the cancer registration database is dynamic. In common with cancer registries in other countries, cancer incidence rates in England can take up to five years after the end of a given calendar year to reach 100 per cent completeness and stability, due to the continuing accrual of late registrations. The figure of 98% is an estimate of completeness based on the figures published for three previous years data (2008 to 2010), compared with the number of late registrations subsequently received for these years. It is therefore the difference between what figures have been published in all ONS cancer incidence publications within a given reporting year, verses late registrations received after the publication date cut-off. It is not an estimate of how many cancers never get recorded.

A list of the names of those given pre-publication access to the statistics and written commentary is available in Pre-release Access List: Cancer Registration Statistics, England, 2011. The rules and principles which govern pre-release access are featured within the Pre-release Access to Official Statistics Order 2008.

Further 2011 cancer statistics will be published later in 2013. The Publication Hub contains more detail on releases.

Special extracts and tabulations of cancer data for England are available to order (subject to legal frameworks, disclosure control, resources and agreement of costs, where appropriate). Such enquiries should be made to:

Cancer and End of Life Care Analysis Team
Life Events and Population Sources Division
Office for National Statistics
Government Buildings
Cardiff Road
Newport
NP10 8XG

Tel: +44 (0)1633 456021
Email: cancer.newport@ons.gsi.gov.uk

The ONS Charging Policy is available on the ONS website.

We welcome feedback from users on the content, format and relevance of this release. The Health and Life Events User Engagement Strategy and Plan is available to download from the ONS website.

Next publication date: May/June 2014.

Details of the policy governing the release of new data are available by visiting www.statisticsauthority.gov.uk/assessment/code-of-practice/index.html or from the Media Relations Office email: media.relations@ons.gsi.gov.uk

The United Kingdom Statistics Authority has designated these statistics as National Statistics, in accordance with the Statistics and Registration Service Act 2007 and signifying compliance with the Code of Practice for Official Statistics.

Designation can be broadly interpreted to mean that the statistics:

meet identified user needs

are well explained and readily accessible

are produced according to sound methods

are managed impartially and objectively in the public interest

Once statistics have been designated as National Statistics it is a statutory requirement that the Code of Practice shall continue to be observed.
Back to table of contents
Contact details for this
Statistical bulletin