The most popular baby names in 2014 were Amelia and Oliver. However, the latest data has shown that more parents appear to be looking to modern culture for inspiration on the naming of their children.
1. Stark girls are having the greatest influence on Game of Thrones girls' names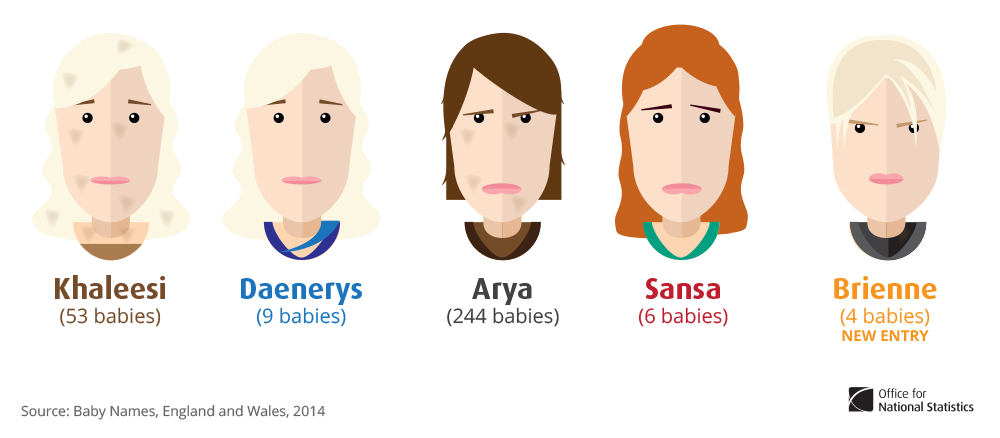 It seems that more parents want their daughters to take Daenerys' regal name 'Khaleesi' than her birth name. We can see that the Stark girl names, Arya and Sansa, remain strong. Brienne is the newest female addition this year, with 4 girls.
2. Lannisters, Greyjoys and Starks battle for popularity among Game of thrones boys' names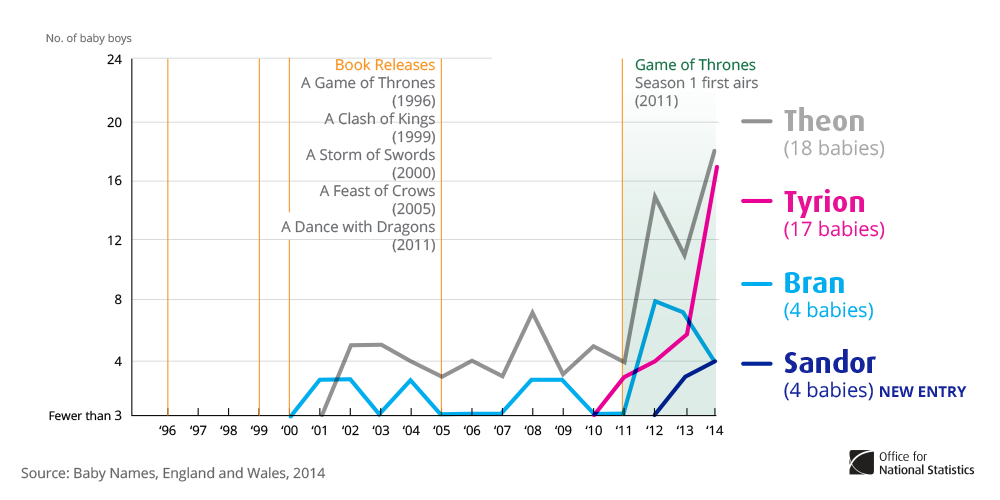 Download the data.
Like the TV series, the Starks, Lannisters and Greyjoys are battling it out for popularity among the male Game of Thrones names. We can see the largest peak after the series first aired in 2011, but Theon and Bran track each other in popularity after each book release throughout the noughties.
3. The ice princess' name rises up the rankings of baby girls' names in 2014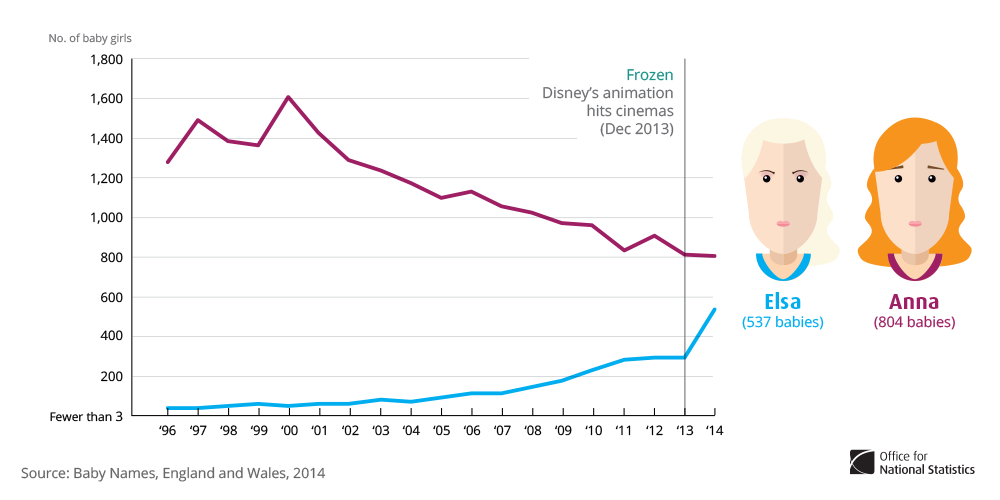 Download the data
The Frozen phenomenon has seen Elsa, a traditionally turn of the century name, rise up the rankings of baby girls' names. Her sister Anna proves less popular, and has actually seen a decrease. Even Kristoff and Olaf made a splash on the charts with 3 and 52 babies' names respectively. This is the first year Kristoff has appeared in the rankings.
4. Pop star names rise to fame shortly after debut and hit albums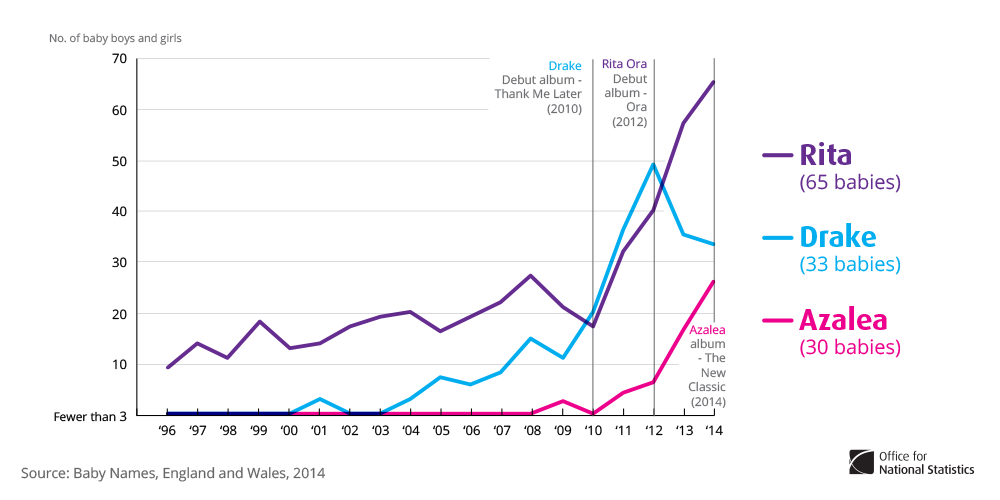 Download the data.
Soon after her debut album release in 2010, Rita Ora's increasing fame is matched by an increase in baby girls called Rita. Similarly, the name Drake became more popular after his hit album in 2010.
5. Harry and Louis the most popular baby names of all One Direction members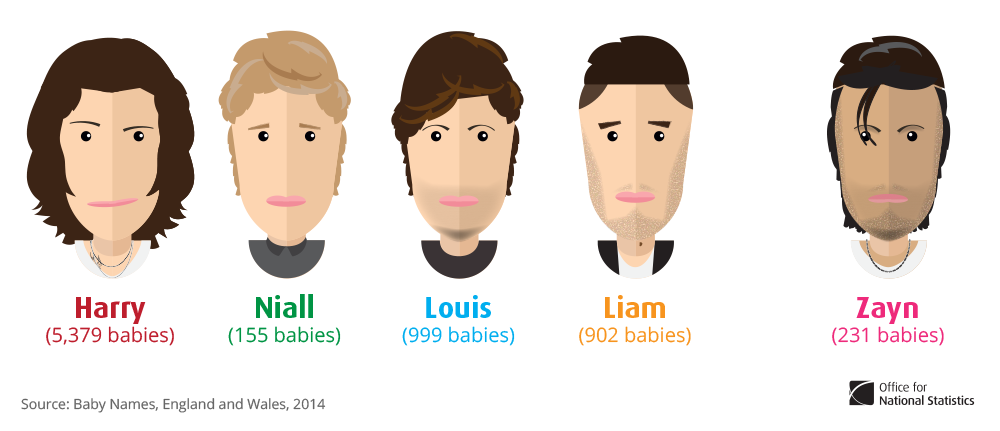 It's clear that Harry has the most popular boys' baby names from One Direction. Zayn appears to have had an influence on parents' baby name choices, with almost 8 times as many baby boys called Zayn in 2014 as there were in 2010. Niall and Louis also prove less popular, but perhaps we will see a change next year after the group's huge world tour.
6. Logan increased in popularity after X-Men films released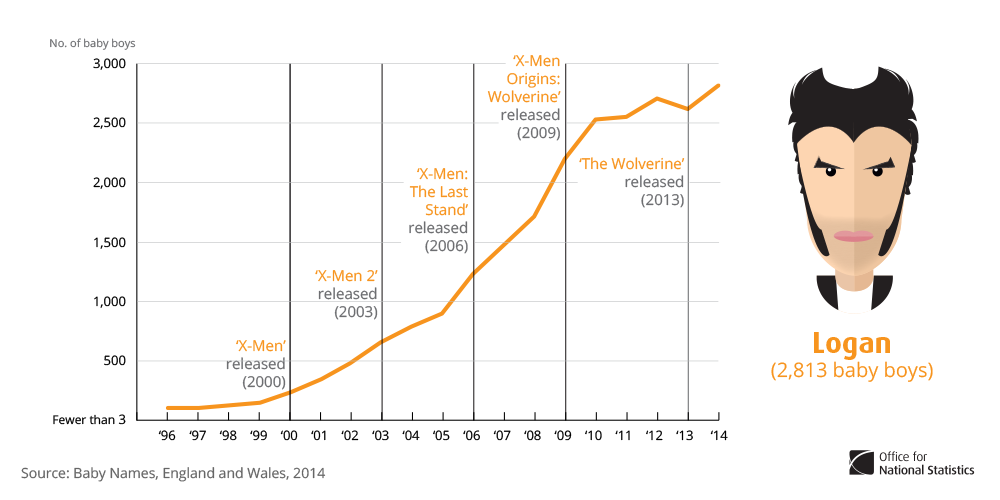 Download the data.
Since 2000, Logan (Wolverine) seems to have had the greatest effect on baby names of all the X-Men characters.
7. Messi and Ronaldo hit names peak before made World Player of the Year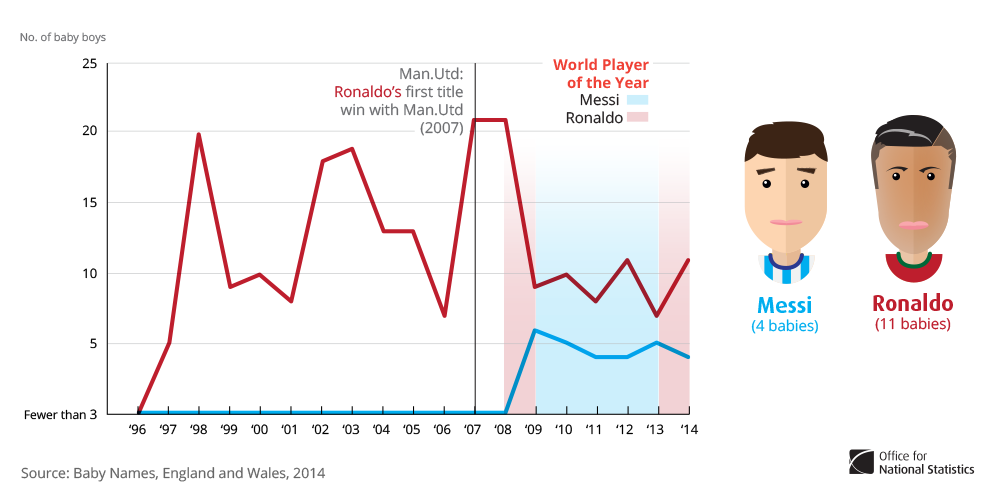 Download the data.
Ronaldo peaked in 2007, the first time he won the Premier League with Manchester United. Messi peaked at little later in 2009, corresponding with his successful season at Barcelona in 2008.
Key world players may also influence names. After the 2014 FIFA World Cup Neymar and Luis (Suarez) increased in popularity, with 8 and 134 respectively in 2014.
8. The Kardashian girls rise to fame appears to have influenced baby girls' names since reality show became a hit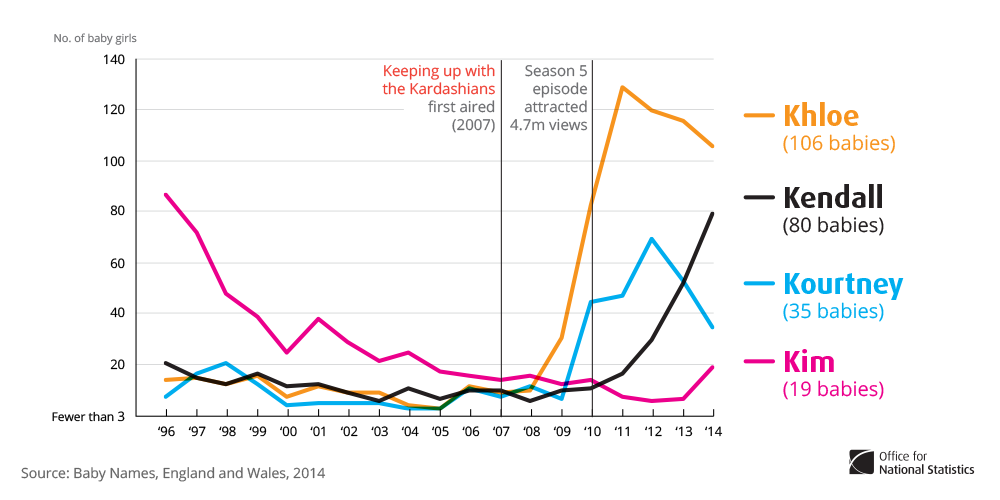 Download the data.
We can see the effect in baby names, with Kourtney, Khloe and Kendall all increasing in number since 2010. However, despite being the most popular character, the name Kim has actually decreased in popularity.
9. Increased popularity in classic names could be influenced by Downton Abbey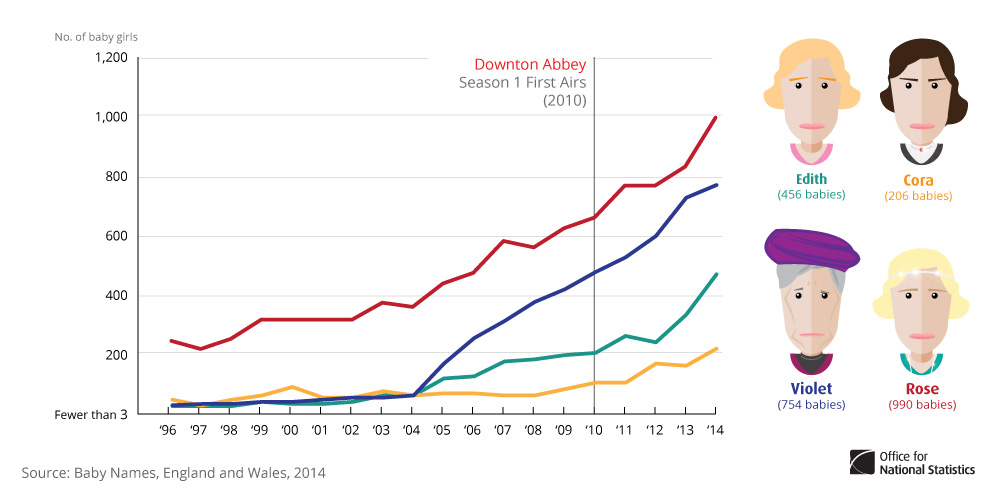 Download the data.
Names that were popular at the turn of the last century (1904) have increased in popularity since around 2004, and Downton Abbey may be having an effect on this since in first aired in 2010. Edith, Violet and Rose were all in the top 30 names in 1904, and are rising in influence once again in the 21st century.
10. Hollywood films and actors inspire baby name choices


Channing didn't appear in the baby names list until 2009, most likely after Channing Tatum's success in the Step Up and 21 Jump Street franchises. Similarly the name Mila increased after 2010, perhaps due to Mila Kunis' success in the film Black Swan.